MUSIC ALBUM of American Zen by The Hippy Coyote: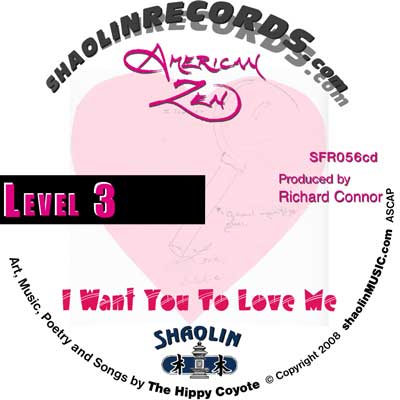 11 songs + 12 bass poems portray the love life of The Hippy Coyote after his exile in Mormon Utah.
The recording techniques are detailed in the American Zen website and CD website at
www.LEVEL3 iWANTyoutoLOVEme.com
Lively danceable romantic folk rock of the flower power years led by The Hippy Coyote on rockin' acoustic guitar, surf electric guitar, Jethro Tull style flute, and Ginger Baker style drums mixed with Bad Company attitude and a T. Rex feel.
SOUNDS LIKE:
The Rolling Stones
The Beatles / John Lennon
The Kinks
AMERICAN ZEN features THE HIPPY COYOTE, previously hailed as "The Best Flute Player In The World," has spent the last two years playing drums. This is Coyote's first album as a drummer and it will impress audiences with songs like, "House Of Rejection," with it's jazzy psychedelic feel, and rock'n'roll songs such as, "All Around The World."
The two previous albums detailed The Coyote's struggles with Utah Mormons while living in Salt Lake City. This album, LEVEL 3 = I WANT YOU TO LOVE ME, is about the love affairs Coyote pursued upon his return to California.
Coyote's newest form of poetry has evolved into "BASS POETRY." After reciting all the poems for the LEVEL 3 album, Coyote thought he was done, but his 1959 Rickenbacker bass persuaded him to add up to three tracks of bass harmonies under all the poetry. Also recorded in one night, all the bass tracks behind the poetry transform this poetry into a new kind of song. Check out, "Civilized World,""Let's Go To Church," and "1,000 Sorrows For A Love."
Album TRACKS:
1. I Want You To Love Me
2. All Around The World
3. I Just Want To Be With You
4. In Line
5. House Of Rejection
6. Change Your Mind
7. All Alone
8. Hurts To Know
9. Musical Woman
10. Carol
11. In Dreams
12, My Lesbian Neighbors
13. Whatever
14. Everything
15. Magic Lady
16. 1,000 Sorrows For A Love
17. Let's Go To Church
18. God Is Smaller Than You Think
19. Civilized World
20. Omnipresence
21. Intuition
22. My World
23. Patience