March 2012
As a member of the Daylite Lodge in Las Vegas, Nevada, I participate in rituals and ceremonies that are different than those masonic events in California. I realize that I have stumbled on more information that further decodes the "Masonic Kung Fu" form. I didn't know about the chisel. That made more sense. When you turn 180, you end up with a hammer and chisel in your hand...
February 28, 2010
I was attending a Secretaries' Retreat of the Masons of California and I performed the "Masonic Kung Fu" for some of my brethren there.
Grand Secretary, Lou Casalou, was the first to see it. He had a puzzled look on his face after he requested I perform it again, "You're the first one to discover this?" "Yes," I replied. He looked puzzled, "You're the first to uncover this?" "Yes, the first person in the entire world to uncode this "Masonic Kung Fu" Form since it became public in 1938. The Japanese were occupying China at that time, and perhaps he gave it to the Jing Mo schools to preserve it."
I then read him my script for the PUBLIC VERSION of this "Masonic Kung Fu" Form, and he had no problems with it. Alan Casalou then commented, he wasn't the one to give final approval. I replied, "I know. But now I'm ready to perform it and get approval from the Grand Lecturer of the Grand Lodge of California Masons." He nodded.
I then gathered a few more Brethren and performed the "Masonic Kung Fu" for them also. They were all impressed, but one mason in particular was especially impressed since he had learned "Ling Po," as our Kung Fu Master, Dr. Kam Yuen referred to it, back in the late 1980s. He stood there with his mouth open as I finished my performance. He also commented, "Your Kung Fu is really good."
about this, "Ling Po," in Cantonese, "Lian Bu," in Mandarin, Kung Fu Form that I learned from Dr. Kam Yuen, who learned it from Grandmaster Wong Jack Man, in San Francisco. I went to San Francisco and studied under Grandmaster Wong Jack Man at both his Oakland Church location, and his San Francisco Bay location. He retaught me the MASONIC KUNG FU FORM, because Dr. Kam Yuen had changed it from the way Sifu Wong taught it to Kam Yuen in the early 1970s.
August 6, 2009: I passed my "3rd Degree" Proficiency. I nailed it. I was about 99.8% pure. A couple words could've been better. I'm proud of my performance and impressed all of my Mason Brethren. Using my MASONIC KUNG FU FORM I was able to further my practice for my proficiency. I changed some of it around to fit the MASONIC KUNG FU FORM and really learned my words in a deeper manner.
Uh-oh. Today is actually March 3, 2010: Last night I watched a TV show, THE SEVEN DEADLY SINS. Last night, I saw an hour dedicated to PRIDE. I just mentioned above how "I'm proud..." I teach about "pride" in my Kung Fu and Tai Chi classes. I learned a few things last night, but also realized I had a lot to add to the concept of pride...
ORIGINAL ENTRY about MASONIC KUNG FU:
On June 6, 2009, while practicing my Shaolin Kung Fu, I discovered that one of my Kung Fu Forms, was encoded with Masonic symbols and secrets.
I got goosebumps.
Two days later, I presented my Masonic Kung Fu Form to my Freemason Lodge, Panamericana 513. There was applause, there were gasps and sighs. Then I had the lodge take a vote, was this an encoded Kung Fu Form or just a coincidence. It was unanimous, the lodge of Panamericana Master Masons, agreed with me that this Kung Fu Form was created to conceal yet reveal the secret signs of Masonry.
Over the next week I continued working and studying the Kung Fu Form. I am currently studying to pass my Master Mason Proficiency, commonly known as "The 3rd Degree." I will probably take my Master Mason Proficiency Exam at the next "stated meeting," in August. Today, I'm at about 85 percent. I could pass it, but I might need a couple prompts.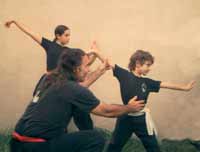 Part of my getting from 50 percent to 85 percent has been practicing my proficiency using my Masonic Kung Fu Form. It is inspiring.
At our Buddha Kung Fu Push Hands Seminar last weekend, a Master Mason, who has also been a 30 year veteran of Tai Chi, was given a private performance of this Masonic Kung Fu Form. It brought a couple tears to his eye and a huge hug of congratulations for "unlocking such a precious jem."
I'm working on a PUBLIC VERSION of the Masonic Kung Fu Form. My last podcast of the American Zen Buddhist Rock Podcast, mentioned I would be performing it at our PUSH HANDS TOURNAMENT this upcoming weekend, but I doubt I will. Masonry / Freemasonry has rules and regulations just like my Kung Fu schools. I don't want to even take a chance, that I might break a rule of Masonry, or betray my promises to keep the secrets secret.
So, until I get approval from the "Grand Lodge" of California, I will only be able to perform this Masonic Kung Fu Form, in any other manner, than that which I learned it. The name of this Form translates to, "Continuous Motion Form," which is another important factor--in concealing all of it's secrets.
More later.
Format: LIVE PERFORMANCES in Master Mason Lodges ONLY.
Discovered: June 9, 2009
Genre: Masonic History: Chinese Masonry (of Grand Lodge of England)
Similar to movies: National Treasure
Richard Connor is an exclusive artist of Shaolin Records
Artist: Richard Del Connor / Buddha Zhen Shen-Lang
Author/Composer/Lyricist/Poet: Richard Del Connor, The Hippy Coyote
Performers: Richard Connor performs solo in Masonic Lodges but will include nonMasons in public performances who have learned "Lian Bu / Ling Po" as Buddha Kung Fu students.