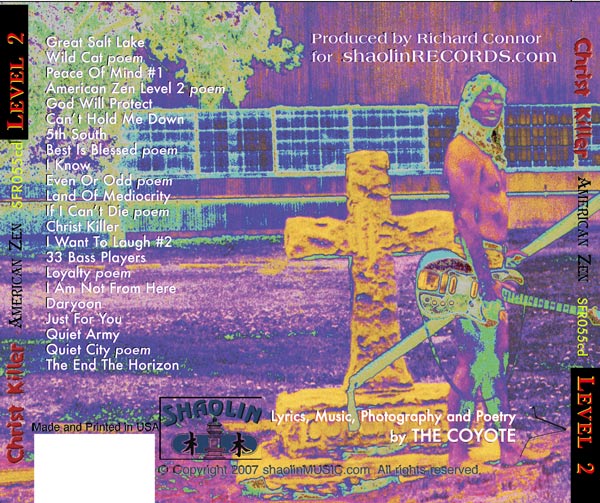 MUSIC ALBUM #2 of American Zen by The Hippy Coyote:
15 songs and 7 poems finish the story of Coyote's battles with the Mormons of Salt Lake City, Utah. These followers of the Church of Jesus Christ of Latter Day Saints, even formed a coalition to boycott Coyote from jobs and publishers in the early 1990s.
Coyote gives a haunting view of Mormon life, polygomy, plural marriage, and the family breeding concepts of this very successful Christian empire.
The American Zen website details this second level of The Hippy Coyote's Buddhist journey. Lyrics, poetry and webstories are assembled at each Buddhist level at www.americanZEN.org
Format: 192kbps mp3 (highest quality)
Released: May 2008
Genre: Folk Rock, Classic Rock, Spoken Word, Acoustic, Instrumental
Similar to artists: John Lennon, The Beatles, Jethro Tull, David Bowie, Crosby Stills Nash & Young, Neil Young
Produced by Richard Connor for Shaolin Records
Artist: American Zen
Author / Composer / Lyricist / Poet: The Hippy Coyote
Bandmembers:
The Hippy Coyote - acoustic guitar, flute, lead vocals, tambourine, maracas, cabasa, guiro
Tom Calder - bass
Steve Hixon - drums
Rory G - electric guitar, slide guitar