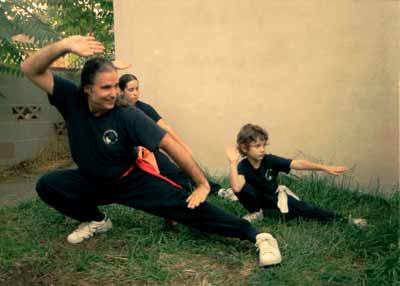 PDF BOOK by Buddha Zhen:
Written in 2007 and completed with three drafts tested and revised upon students until June of 2008.
This is the FIRST EDITION printing of the BUDDHA KUNG FU STUDENT MANUAL by Master Zhen.
Visit the www.BuddhaKungFu.com website for more information about the classes and courses associated with this book.
Designed to inspire Chinese traditional ethics, morals, and social behavior, this may be the best Kung Fu Studnet Manual in the world. Includes active links to all the Shaolin Chi Mantis, Tai Chi Youth, and Buddha Kung Fu websites when viewed on any computer connected to the internet.
Format: PDF book
Released: 6/11/2008
Genre: Shaolin Kung Fu, Tai Chi, self-help, Zen Buddhism
Similar to authors: Yang Jwing-Ming
Publisher-Editor: Richard Connor for Shaolin Communications
Artist: Buddha Zhen
Author/Composer/Lyricist/Poet: Shen-Lang Zhen, "Spirit Wolf of Truth"