Recorded LIVE during 2002 to 2005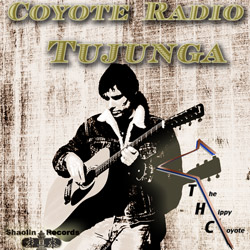 14 solo performances by singer-songwriter The Hippy Coyote of American Zen.
Performing on his Alvarez acoustic guitar before it was stolen, Coyote provides unique arrangements of some songs, such as Christ Killer, and The End The Horizon.
The last song of the Coyote Radio Tujunga album is Don't Forget, written in 1975 and somehow predicting all the various elements of the other songs of decades to come. Recorded in Tujunga, California while Richard Del Connor was a Mr. Mom singing his young son to sleep for his afternoon naps with wild rock songs and romantic ballads.
14 songs recorded by THC THE HIPPY COYOTE of the Buddhist folk rock group, AMERICAN ZEN, in Tujunga, California, between 2002 and 2004.
Coyote recorded these songs LIVE, sometimes while performing for his young son Rory, as he sang him to sleep each day as a Mr. Mom.
1. All Around The World
2. Don't Push Me
3. In Dreams
4. Dear Mom
5. Don't Make Me Laugh
6. Black Of Night
7. Christ Killer
8. What Do You See?
9. In Line
10. Backseat Love
11. Hurts To Know
12. The End The Horizon
13. Spirit Gun
14. Don't Forget